Blue, Blue, Blue!
Yeah, yeah, its been a week. The Saved Loom continues to reside in the Farmstand. We meant to move it into the Horse Barn this week, really we did. What a week. Snow, ice, rain, sleet, ice. One of the pre-schoolers asked me if we could go out to see the river (what river?) and I finally figured out he meant the river of meltwater running in the ditch down the side of the road. In any case, definitely not good snowshoeing conditions anymore....
So what to do on a lazy Sunday afternoon? How about an indigo vat? Splendid idea, Laura! (She had all the stuff, but let me do it). This was my first try with indigo (well, second try. The first try was also today and I stirred it way too much and got way too much air in. The second go was much more successful) and I am stunned! It actually came out blue! The best part is watching the yellow-green to blue oxidation reaction....swoooosh -- magic! You can kind of see it in this picture:
This is the second-coolest dye bath I have ever done (rock tripe lichen -- purple! -- remains by far the best) Today there were 9 skeins in all. Three commercially spun cheapies, one alpaca/wool blend that I bought at the Henniker Farmer's Market last summer, two very smooth merino-ish (I don't remember what exactly) skeins that I spun a while ago, one of the gray skeins previously destined for Laura's sweater (and no, she doesn't want it blue after all) and two small skeins, possibly Icelandic, that she spun this afternoon (shortly before leaving to take Ellie back to school). They have been washed & rinsed in vinegar water and are currently drip drying (onto cardboard) in the kitchen: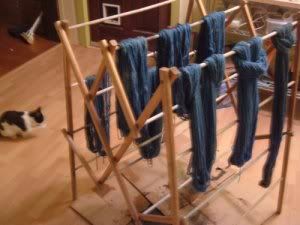 Aren't they pretty?
SIDEBAR & CAT UPDATE: You may have noticed that Twilly is invading this picture -- kittens & yarn continue not to mix so well, sweetie pies that they are. They want to help, learn, become great fiber artists, but they need to discipline themselves a bit. Yesterday while winding warp for my table loom they were decidedly unhelpful. Today I'll be surprised if they don't wind up with blue spots for all the interest they took in the dripping indigo skeins. AND Abbey killed my orchid this morning -- first she knocked it over, (and I righted it -- "bad kitty") and shortly thereafter she jogged into the livingroom proudly carrying the severed flower stalk in her mouth. Cute but not funny. In an attempt at distraction, I found them a scratching post with yellow spring-loaded pom-pom on top at the Swap Shop at the dump (it doesn't smell). They had fun beating that up, especially once catnip had been sprinkled liberally. Better that than my foot.
IN OTHER NEWS, yesterday I received my very own copy of (drool)
The Lichens of North America
which I have been lusting after for some time (10 points for John). The Christmas tree came down (on purpose, not due to the kittens -- lucky for them -- can you believe they only broke one ornament over the entire holiday season?) There were over 20 turkeys in the yard/driveway again yesterday. The Kimono shawl continues to grow -- I am about 1/3 of the way through it. No picture yet. Nana called from Illinois to tell me that they have a new peekapoo puppy named Megan -- "Meggie." It weighs a pound and a half. "Dog" we ask? That's smaller than Abbey...