Lions & Lambs...
Thanks for the title, Laura!
Doug came over for dinner last night and brought the sheep rug & stuffed sheep that Marie gave him for birthday/Christmas. Abbey & Twilly took an immediate liking to both. How cute is this?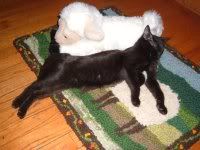 Then Twilly decided to model the single mittens I have done recently in an effort to get Mommy to actually finish a project: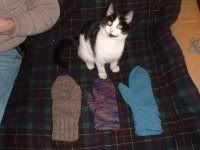 No more indigo dyeing done last night...but Doug was kind enough to show us the fruits of his labor from the silk workshop he went to over the weekend in Vermont. Yum!