The Saga Begins...
Hurray! The Sweater has been started! But first, background info on this project is in order: Last year before Laura moved to NH and bought this house, she looked at her stash and realized she had gone a little overboard with buying fleeces (but really, who can blame her?) So with the impending move, she washed a bunch of fleeces and sent them off to be made into roving. Boxes and boxes and boxes of roving came back (much to the delight of the kittens when they discovered them recently...) There was one box of nice soft gray roving and I convinced her to let me spin some if I promised to make something for her, namely, a sweater. So I've been spinning this stuff on and off for a while now. No pattern had been decided upon other than that she wanted a "cabley" aran. Around Christmas she bought Elsebeth Lavold's
Viking Patterns
book, and as she probably mentioned in
her blog
, I latched onto it and made her a hat (seen below as modeled by the charming Asterix), ostensibly to serve as a swatch for The Sweater (I would definitely recommend the hat-as-swatch-for-sweater method because it's less boring than making a square).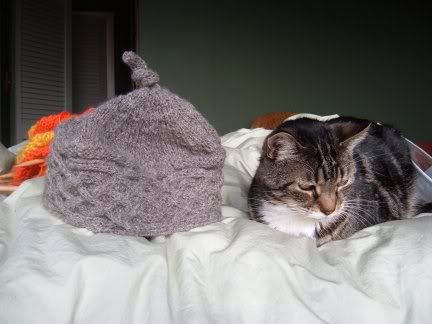 So the other day I decided that I had been looking at the basket of yarn (8 skeins total minus one for the hat) for long enough (plus I was afraid that a Certain Kitten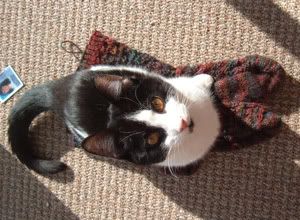 who hasn't been so great about using her litterbox lately might take too much of an interest in said basket of yarn) and started it. It is a combination of designs from
Viking Patterns
, "Ragna" (pg. 54) and the Lattice Cable Pullover (pg. 39) in Kristin Nicholas'
Knitting Beautiful Classics.
The Sweater back has (and front will have) seed stitch on the side then a little twisty cable, then one of the Ragna cables (as seen on the hat above), another little twisty cable, then the lattice braid in the center, twisty cable, Ragna, twisty cable, seed stitch. I am pretty happy with it so far and have about two pattern repeats done (16 rows each). At this point it seems either big enough or too big, in which case she can wear it as the outer layer because there ain't no way I'm taking it out now: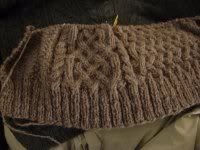 And my
Knit Picks
order arrived today...merino.... alpaca.... mmmm...
In other news, last weekend Laura and I
finally
went to the used bookshop in town and it
was
truly amazing -- John was up here on Sunday and I had to go again just to take him to see it! In terms of absolute numbers of titles, I'm sure they have at least
ten times
that of Borders -- the place is a two story barn & just jam-packed with books. Some of the sections were so obscure yet so extensive -- like whole shelves on different European, Asian & African countries, for example, and a shelf for each US state...and in the nature & animals aisle,
whole sections
on elephants and kangaroos. And they have great really old-old books, too -- like nineteenth century botany books with those amazingly intricate engraved illustrations. John was impressed with the Sci-Fi section and found himself a comic rendition of
The Empire Strikes Back
from 1980.
I found a copy of
The Goat in the Rug
. It's really worth the trip if you live in New England.
At
work
I am getting ready for my kiddo vacation camp program that starts on Monday -- a whole week of fiber arts! I've done weaving & spinning here and there with different programs, but never had the chance for kids to
really
learn some of the skills, so this is very exciting! Tomorrow's morning pre-school class is the last in the classroom before camp, so then I can start setting up! Pretty much the last major thing I have to do to get ready is haul the small Harrisville loom down from the Spin Shop to the classroom...it's already warped. It's still not too late to register if you know a kid in the greater Concord, NH area that would be interested! Camp pictures & report next week!