It's melting, it's melting!
Today it topped 50 degrees outside -- could someone write me a note so I don't have to go to work on the next day like this? I did leave work an hour early today & raced home to maximize my outside time! There was a roaring noise coming from the normally little stream to the east of the house, and indeed it is nearly overflowing its banks: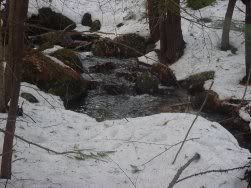 I collected the sap (about a gallon) and sat outside with the cats for a while, but as soon as the sun set it got very cold, so here I am blogging. Abbey, for whom we nearly had to call in the fire department for a rescue mission, is loving this outside thing: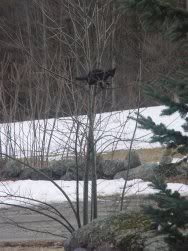 Our animal neighbors are starting to show themselves, too -- I startled a sweet little possum last night when I drove in the driveway, a bear has ripped off one of our birdfeeders, and several deer were out browsing in the field this morning. Still no "Big Night" for amphibians that I know of, but they had one in Massachusetts on Monday night, so it should be soon!
The picture in the last entry of the Flower Basket Shawl was so dark -- I deleted it and meant to re-take it right away, but then I went to Cape Cod for the weekend to visit my Grandpa and ended up finishing the shawl while I was there! So here is a bright enough picture of the finished & blocked FBS: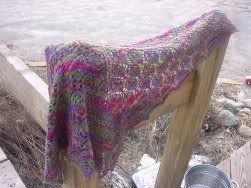 Laura & I started our 8-week weaving course last night at the
Fiber Studio
. The first project is a sampler of sorts, so we warped our looms with 2 yards of cotton carpet warp to make a 10-inch wide piece. The warping instruction was what I was really looking forward to because I have had several disastrous warping experiences. The way Pam showed us how to do it made it all much, much neater! Next week we start weaving!