No camp today...
I hadn't anticipated having the time to write this week due to my vacation program at work, but unfortunately, today we are bombarded with another major snowstorm and camp is cancelled. This is a picture out the upstairs deck sliding door: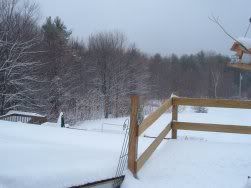 Yesterday was quite nice -- only three kids were there so they didn't have to fight over the available wheels (which I introduced after they were reasonably competent with hook spinning and drop spindles -- I personally think wheels are easier, but I've found that kids REALLY want to jump right to the wheel and then end up getting really frustrated because it goes too fast). Tomorrow we weave and I will post some photos then.
Anyway, on Sunday Laura was upset about being a grownup, so as happens in this house when someone is upset, we dyed wool. This time we used pro-chem dye and made stock solutions of red, blue, purple, black, yellow & jade green, then did some mixing, applied the dye, wrapped, steamed, cooled, etc. We employed Laurie's (of
Yarn Harlot
fame)
technique
of stuffing roving into an old pair of nylons to keep it from moving during the dye process, which worked very well. This was the first time I've used chemical dyes other than KoolAid and I like the results (bright!), though it isn't nearly as much fun as indigo or lichen or onions or any of those! And until I get a better idea of what I'm doing, these results are entirely non-reproducible -- I had no idea what they would look like when I sloppily applied the dye. Shown here are 440 yards of sockweight merino (recent
Knitpicks
transgression) dyed mostly green with a shot of magenta -- do I see a small lacy shawl?! Next up is light-weight yarn spun from dyed roving which you see here wound on the ballwinder to show the colors (sort of!). The piece of roving that this yarn was made from went from orange to red to pinky purple to pale blue to dark green to lime. I split it in half, spun two bobbins of singles, trying to make each length of each color on each bobbin about the same, then plied them so that colors matched as much as possible so that the finished yarn goes from orange through the above mentioned color sequence to green...kind of like Noro yarn. The roving on the right is mostly blue/eggplant and rusty orange/red!