A weekend off!
Even though it's raining....at least I'm not working a 6-day week again! Time to help clean up the house, do my laundry, actually knit (!), bake some bread, and start some more seeds inside!
Last weekend I had Sunday off and went up to the beaver pond behind the house and saw adult Eastern spotted newts swimming around in the water. Newts have a "teenage" or eft phase in which they are terrestrial, but as adults return to the water for the rest of their lives. I've seen tons of the little orange efts, but never the adults in the water before (they are olive green with orange bellies). It was very cool!
Things have been just as crazy at work this week as I thought they would be, mostly because I was made the Village's new webmaster (after a 5-hour informal training session last Friday with our computer consultant and a copy of
Dreamweaver for Dummies
)
and spent most of the week making long, long overdue updates to our website. This new duty is
really
hilarious because I have NO web experience (NONE!) other than this blog! At least I don't have to deal with design because the page already exists, only update the content. If you are at all interested in what is going on at
Canterbury Shaker Village
during our 2005 season it is now all online!
Meanwhile, I was trying to find enough time to plan for our April vacation program (which is still no where near planned and it starts on Monday...ha, ha, haaaaa). And I have been doing my share of procrastination by knitting. I started a (gasp!)
cotton
lacy tank-top. And earlier in the week I did finish one little project for a friend of mine at work who is due with her first child in May: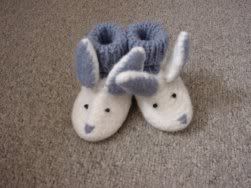 These felted cuties are from a
Fiber Trends
pattern and are a really fun project to knit for the little people in you life! And finally, check out the daffodils & tulips in full bloom.....ah, spring :)