Greasy grimey...
Two days off! Thunderstorms! More rain! This weekend (Mondays & Tuesdays are my days off, so henceforth, when I say "weekend" I mean MY weekend...) I mostly did chores, had my car inspected, & went to the dump (where I scored some canning jars at the Swap Shop). I did manage to get some gardening done between rain showers -- I planted the tomato & pepper seedlings, onions, peas & swiss chard today because it finally seemed dry enough to do so. I spun another skein of gray wool for Laura's sweater and washed it and another one that I spun a while ago.
Oooh...I've delved into the new cormo fleece & I'm in love. I thought I'd try spinning it a couple of different ways to see how I like it best. First experiment was to hand card and spin in the grease. I always washed fleeces before, but this fleece is exceptionally clean ("Fellow" was covered) and I thought I'd just try it...and well, um, I think I'm a convert... Here are my reasons: 1) I'm trying to spin a light weight yarn & the grease helps create some friction to keep that tiny yarn from slipping out of my hand and breaking. 2) I think it actually helps me spin a thinner yarn. 3) The grease helps keep the little fuzzies from sticking out too much. 4) It softens my hands and 5) I love the smell of sheep. So I've spun one skein & washed it. All the grease washes out easily leaving a nice pure white very springy yarn. Gotta love cormo.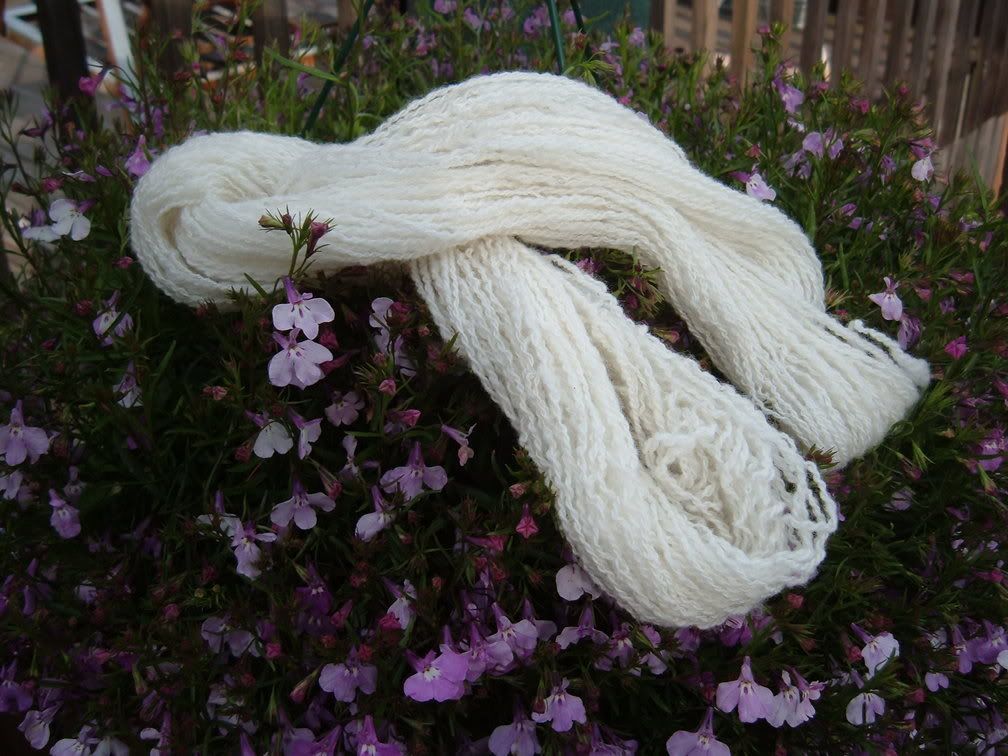 I know there are people out there who swear by spinning in the grease and those that are vehemently opposed, and not many who go both ways...I'd be interested to hear opinions for and against. How do you process fleece? What are your reasons?
P.S. Hello from the chickies & cats who are all well.