And then there were 11...
One of the chickens died :-(
The deceased was the smallest one of the flock and the others, especially the rooster, kept attacking her. Plus she was either not all there mentally, blind or was sick -- something was really wrong with her. So I separated her from the others so they would stop bugging her and she died the next day. The others all look very healthy, so I'm hoping it was just a fluke. Oh well, that's why I got so many to begin with.
Laura
's friend Doug assembled up her 48" LeClerc Nilus floor loom in the new craft room! I warped it with a really narrow (like 12") warp and am attempting rag-rug style potholder/trivets. Here is Doug with the loom (whatta guy!):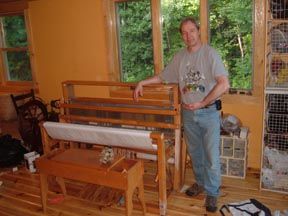 Camp will be over on Friday -- It's been fun for the most part, though a challenging group of kids to work with last week and low enrollment this week. When we picked these dates last November, who would have guessed that we would have a record number of snowdays? Kids are just getting out of school now and don't want to go immediately to summer camp, I'm guessing. Tomorrow I have six kids and a watercolor artist coming to teach them about painting, so it should be fun.

Yesterday evening at work (after snitching a few ripe strawberries out of the garden) I watched a great blue heron fly in over the pond and land on the TOP of a tall white pine tree, flapping for a while to keep its balance (I didn't know they would land way up there). I also saw an older fawn running across the field and aerobatic barn swallows catching insects. The setting sun last night was salmon-red-orange and huge on the horizon, and just beautiful. It was a great evening.
And just because, here is another shot from my Alaska trip in 2003. This is the view from the small island we stayed on in the Kachemack bay (looking east) :