The last few days...
It's been hot. It's frustrating when it is way too hot to be outside and be comfortable. What I wouldn't give to be back in Alaska with the icebergs sometimes (I went for 3 weeks in 2003):
The cats thought it was hot, too. A rather melted-looking Twilly is pictured below throwing inhibition to the wind yesterday when it was a muggy 85 degrees in the house! Today it rained and has cooled off A LOT (it's supposedly around 50 degrees right now...ahhhhh....)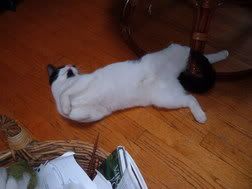 I spun some more of my Cormo. Knitting of a Pi Shawl has commenced!
Sunday we attended my step-sister Cady's wedding in Sugar Hill (northern NH). It also happened to be the weekend of the Lupine Festival in Sugar Hill, and the lupines were in full bloom, so despite being hot and muggy, everything was just ten times lovelier than usual. The reception was at the
Sunset Hill House
which has a gorgeous view of Franconia notch. This is the church where they got married, lupines & all: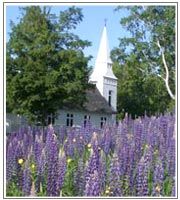 And today Nancy (my boss) and I went to Boston to the
USS Constitution Museum
for a conference on family learning sponsored by the
New England Museum Association
. Lots of great ideas for what we can do at the
Village
with our fledgling family learning programs. Back to work tomorrow -- I may be incommunicado for the next couple of weeks as June 20 starts two weeks of
camp
!