Sheep pics
Forgive me for my lack of being around this week. I've been pretty busy and to top it off, I found out this morning that my boss is resigning effective next Friday.
People want sheep shots. Well, here is the one picture I could get before my digital camera ran out of battery power: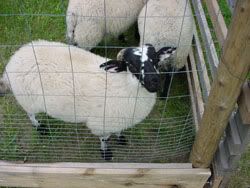 They are Scottish Blackface sheep -- wethers. Their names, tentatively, are Piggy/Hoover, Spot & Butt (as in the one who head-butts everyone else). Don't blame me, I didn't name them...Yesterday they were released from their little pen into the great wide open orchard (7 acres) to graze. When it came time to put them back in the pen at the end of the day, they could not be found. Eventually the sneaky little guys turned up
in the chicken coop
(also in the orchard) eating the chicken food with wild abandon! They managed to squeeze themselves in through the slightly-larger-than-normal chicken door. Today they were observed chasing the chickens through the orchard...The antics, I tell ya.
My chickens are well, growing like weeds, and really into chasing bugs.
I went to the
Fiber Studio
on Tuesday morning to take my class project shawl off the loom since I missed class last Tuesday evening. It's almost done now except for twisting and tying the fringe on one end. Lots of other little projects here and there -- still working on the Flower Basket shawl with the yarn Dana at work brought me from France, a little Kimono shawl design scarf of eggplant colored Elsebeth Lavold Silky Wool, and I also joined the
Branching Out
Knit Along and have started a scarf with some
umbilicaria
lichen (purple) dyed handspun Shetland. I've also been trying to find time to spin my Cormo, which I have plans to knit into a Pi Shawl of some sort.
Thunderstorms tonight.