Movin' on...
Sorry I've been so out of the loop lately...I'm moving! My friend Michael (the Center for Traditional Arts guy) had been living in an apartment at the Museum but since he quit his job there he has also moved, leaving the apartment vacant. The week after Michael announced he was leaving, I had a meeting with our Director and he offered the apartment to me. Over the next couple of weeks I thought about it a lot and finally decided to go for it! The drive to work in Canterbury has been killer in the last year...my poor 1989 Camry has put on 25,000 miles since September and I'm sick of buying and burning that much gas. Now I will be able to roll out of bed, and mosey to my office in the next building over. I'll have 700+ acres of conservation land in my backyard including trails & ponds, a 3 1/2 acre organic vegetable garden across the street, and of course, the sheep (although one of the three, Piggy, died last week due to another break-in to the chicken coop and subsequent over-consumption of chicken feed...we are very sad). My chickens can move into the coop out in the gardens and the Director has made a special exception for the Exceptional Twilly and Abby cats. I will have some additional responsibilities as the Village caretaker including dealing with those pesky, prone-to-false-alarm alarms at 2:00 in the morning, but I think the benefits of living there vastly outweigh the trouble. Plus it's much closer to Center for Traditional Arts so I can be more involved up there, too.
So I'm very excited, very busy, and slowly getting things organized! My official moving-in date is August 15, but I have been taking a load of stuff (where did it all come from???) with me every day when I go to work. Below is a picture of the building my apartment is in...it was built in 1831 as an office/store for the Shakers and also housed their trustees. More pictures to follow!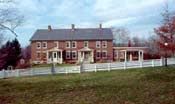 P.S. And I've learned a sure-fire way to keep oneself from starting a new knitting project: keep your yarn in another town. It really cuts down on the ability to do anything fiber-related at all...I just realized tonight that I already moved all my yarn, needles, spinning wheel, and current projects to the apartment. Oops.