Happy New Year!
Back to work after a week off...kind of nice to be back, though I did have a lot of time to catch up with people...my sister and I went to Cape Cod to see my dad's side of the family there; my Granddaddy came back from Florida so I spent a day with him watching college football; my Mom and I spent a day checking out yarn shops and looking for fabric to re-upholster a second-hand chair she got me for Christmas; Michael and I spent New Year's eve day driving around northern New Hampshire; and I spent a day catching up with a friend from high school and her one-year-old (picture coming soon!)
I also had time to work on projects! I started winding warp for cotton/linen dish towels: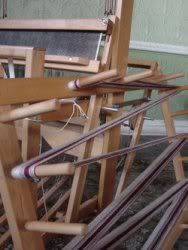 And have almost finished a pair of lace socks from A Gathering of Lace: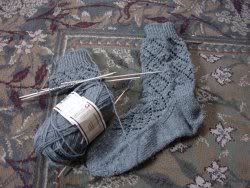 Now I'm planning for February vacation
camp
, spring preschool programs and spring family progams like animal tracking walks, maple sugaring demonstrations, sheep shearing day, and vernal pool walks in April.
Finally, some cat shots; Curious Twilly with the sheep scarf my sister made for me: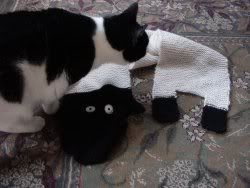 And the lovely Abbey with daffodils: