Socks, socks, socks...
Now I'm on a sock kick and it's all because of these: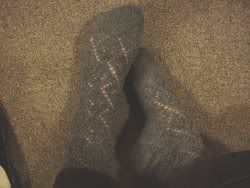 "Little Lace" socks from
A Gathering of Lace.
It smelled like spring outside today...mmmm. Then again, it's January -- that can't be a good thing. I went for my first snowshoe expedition of the year on Saturday -- explored around out behind the museum -- even out onto a solidly frozen pond. It was beautiful.