All right, fine, I'm in....
So I decided to make a valient effort on
Laura
's aran sweater for the
Harlot
's Knitting Olympics. I may have mentioned this project before, but let me re-cap...when Laura moved to NH she had several raw sheep fleeces that she sent out to be made into roving. When they arrived I asked if I could play with a particularly nice gray romney and she said sure, "as long as you make something for me!" We decided a sweater was in order, one with fancy viking cables. I made a swatch in the form of a hat seen here with Asterix last year: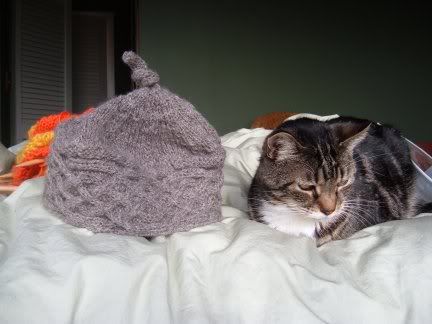 So then I started the sweater and then had to rip it out because it was too big. Then I procrastinated for about a year.....So now I've started it again and am mostly done with the back. We'll see...
Also, I wanted to post a picture of my beautiful new drop spindle, made for me by one of our tour guides who is an excellend wood turner. It spins very, very well and for a long time. I managed to drop it and crack the shaft, but it seemed to glue nicely. The woods are curly maple, cherry, yellowheart and padouk: