Blue & Brown
I spent the weekend at
Laura's
house working on projects. To her dismay, I seem to be obsessed with blue & brown these days. I decided to make the Color Wheel Quilt from
"Last Minute Patchwork & Quilted Gifts"
but with the color wheel in all blues and the background a deep, dark chocolate brown. I had about 40 blues in my stash, but only enough of about 35 of them. So I had to visit the Henniker
quilt shop
and buy 17 eighths (you need 52 wedges) to complete the wheel. Then I thought it would be easy to find the dark brown. No. Way. Even
Keepsake
didn't have what I was looking for. Grrr. Anyway, here is the blue part: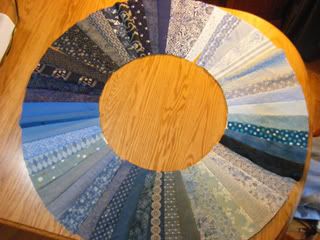 It is actually still in four separate pieces in this picture...you have to put the inner circle wedges and outside border on before you sew it together, which, at this rate, with brown apparently being impossible to find, could be a while yet. (The dark one at about four o'clock in the picture look out of place, but it is actually a dark teal silk and fits in just fine when you see it in real life).
I'm also making the "Follow the Lines" quilt for my new baby step-niece out of a big flowery pink and brown print....
And I finished a pair of socks this weekend out of Trekking Hand Art colorway "Jamaika" (very bright!) Thanks for the yarn, Laura!
Also, good news, Michael picked up the yarn from the PP costume department for me to start knitting gloves. But he says he's holding it hostage until I finish some other projects.
Saturday I went to a flea market with Mom & Ed and picked up a jug of antique buttons - there were lots of ones I will probably end up using with students for craft projects, but I bought it for the treasures! Probably about 20 antique porcelain, some interesting glass, mother-of-pearl, and quite a few hand-drilled bone buttons, too.
Crocuses are up, and daffodils are on their way. Rivers are flooding. Definitely spring bird songs.